Pro photographers and agencies, these resources can help you stand out as a power contributor, equip you to share the delight of Street View in VR form and empower your clients to promote their Street View status with pride. If you're looking for compelling data that evidences the power of this content, check out our virtual tour stats too.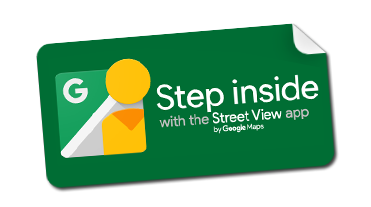 "Step Inside" Stickers
Promote newly photographed businesses that have been added to Google Street View
As low as 35¢ per sticker, based on the quantity ordered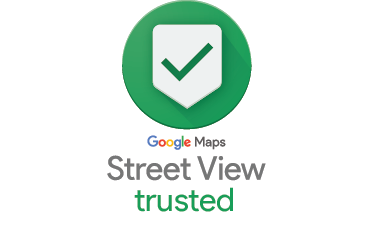 Trusted Badge File
Eligible Street View contributors may use the Trusted badge according to the sales and branding guidelines below
Those who are not – or are no longer – eligible cannot use this badge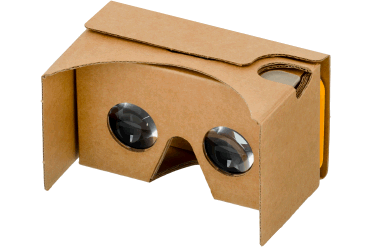 Google Cardboard
Enjoy Street View in virtual reality
Demo the best of your portfolio to clients and prospects
A great gift or leave-behind
Many styles available
As a photographer or agency, Street View photography offers a powerful sales proposition. As a business seeking exposure, an experienced Street View contributor can help you gain visibility quickly and easily. Regardless of your role in this exchange, it's important that you understand each party's responsibilities, as outlined here.

Photographers/Agencies
Google is not a party to agreements between photographers and business owners or any other third parties.
Please note, this information is provided only as guidance. Google does not audit the terms of third-party agreements.
Google is unable to resolve any disputes that arise between you and your client, including any questions related to product quality or total cost of the shoot. If issues arise during the course of your relationship, you and your client will need to resolve them on your own.

Business Owners
If you decide to hire a professional photographer to collect imagery of your business, note that Google does not employ any photographers or agencies and we cannot guarantee the quality of their services – so exercise good judgement.
If a dispute arises from the collection of imagery, you will need to resolve it with the photographer or agency according to the terms of your contract with them. Google does not mediate third-party disputes.
While Google does not employ photographers or agencies, we do allow contributors to gain the Trusted badge. This certification highlights photographers and agencies who have met our quality guidelines across at least fifty published 360 photos, evidencing their capture and publishing proficiency.

Connecting Businesses with Photographers/Agencies
Google may provide trusted photographers and agencies with contact information for a business if the business has requested a professional photo shoot.
Trusted pros are independent parties who must not misrepresent their affiliations with Google.
Google wants to enable businesses and photographers/agencies to enter into positive business relationships. In some circumstances, we will share business opportunities with all trusted pros. In other cases, we will share business opportunities with a more limited set of trusted pros.

Verified Listings
Verified businesses can update many of their listing details as they appear in Google Maps and other Google properties. Trusted photographers and agencies may support their clients by helping verify listings through Google My Business.
If no business listing exists and a business is located in a country where Google My Business is supported, trusted photographers and agencies can support business owners in creating and verifying their business listings.
The Google Street View brand and Trusted badge can be used as valuable marketing assets. If you're a trusted pro, we invite you to leverage them to celebrate your distinguished status. Trusted pros can use the Trusted badge, word mark and branding elements, including Google, Google Maps, Street View or any other related logos. Below are some things you can and can't do with them. If you believe someone is violating Google's permitted uses of our brand assets, you can report these inappropriate uses.

Things that you can do
Only use the Trusted badge and branding elements if you're a certified member of the programme.
Offer professional photo spheres as one of your business services.
Only show the Trusted badge against a white background with enough padding, no matter where you display it.
Use the Trusted badge and branding elements in a website, presentation, business apparel and printed sales materials. Make sure that the badge and branding elements aren't the most prominent elements on the page/clothing.

Things You Can't Do
Don't misrepresent or hide that you're part of the trusted programme when you're interacting with businesses online.
Don't change any of the Google, Google Maps, Street View or Trusted badge, logos or word marks. This includes adding any graphics, stretching the images or translating them.
Don't use the badge in a misleading or abusive way. For example, using the badge in a way that suggests a Google endorsement for any product or service.
Don't use Google, Google Maps, Street View, Trusted badge or any other Google trademark – or its likeness – in a domain name.
Don't use the branding elements in any way other than those specified in the guidelines.

Remember to follow these guidelines when using the Trusted badge. Here are some other guidelines to follow:
All other usage guidelines for Google trademarks
Note: If you don't follow these guidelines, you may lose your certification and the right to use the Trusted badge and other branding elements.
Google Street View celebrates honest representations of the world. When selling your photographic services to others, it's important that you embody the same transparency and that you understand your duties and rights as they pertain to other people, brands and local laws.

Visibility of Images on Google Maps
Please note that Google will rank images on Google Maps irrespective of any contractual or commercial agreement between third parties, including agreements between business owners and photographers.
The fact that a business owner has paid a professional photographer for a shoot will not guarantee how imagery is ranked or appears in Google Maps.

Photographers are Not Google Employees
As a photographer or agency, you must not represent yourself in a way that suggests that you are employed by Google. Present yourself truthfully as a fully independent business entity, and communicate to clients Google's limited role as a publishing service.

Compliance with Local Laws
Make sure that you abide by all local and federal laws when serving clients. Do not misrepresent your skill or the end quality of the work that you perform. Also make sure that you carry the appropriate insurance necessary to perform the work that you have been hired to complete.

Ownership and Control Over Images
We recommend that when photographers/agencies and business owners engage, both parties enter into a written contract that specifies the terms of the agreement, warranty and future ownership rights.
Make sure that you determine who will own the imagery after the shoot is completed. If the photographer/agency will retain ownership, make sure that the business owner is aware how they may use the imagery without infringing on the photographer/agency's copyright. If ownership passes to the business owner, please make sure that they consent to the transfer of images, and that they understand what rights the photographer/agency may retain.
The same image should not published twice under two accounts (such as the photographer's and the business owner's accounts).

Accountability
While published images are typically visible on Google Maps within seconds, these images may subsequently be rejected if they are not in compliance with Google Maps' imagery policies or the Google Maps Terms of Service.
Should commissioned imagery be rejected from Google Maps, resolving the issue remains the responsibility of the photographer/agency and the business owner.
We recommend that photographers promptly correct or replace images that are against our policies – and ensure they're approved for Google Maps – or else fully refund their client in the event that the issue cannot be resolved.
No Conflicts of Interest
Some Google programmes – notably Local Guides – require that you participate in a non-professional capacity (e.g. that you are not compensated for the content that you contribute). If you offer services for hire (such as marketing yourself as a Street View trusted provider), it's important that you do not bundle these professional services with any other non-professional services that imply impartiality (such as your ability to post a rating or review as a Local Guide).